January 19th, 2010
Ko Rawi is one of Thailands less touristic islands and part of the Adang Archipelago, close to the island of Ko Lipe and the Malaysian border. Tourists coming to Thailand usually visit islands like Ko Samui and Ko Phangan right of the main land or Ko Phi Phi and Ko Lanta a bit more south on its left.
The island of Ko Lipe lies a bit more remote and it will take you about 6 hours to get here by boat from Ko Lanta. If you decide to move more south along the Thai coast you can be sure the effort of your travelling will be worth it because here you'll find a wide range of unspoilt beaches that truely capture the Thai beauty.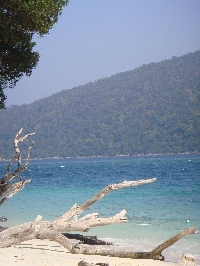 Photos of the beach at Ko..
Ko Rawi is one of these secluded places and home to an amazing stretch of white sand hugging its crystral clear waters. Long tail boats park on the beach to let the few tourists enjoy their beach time while the drivers order some lunch at the only picnic spot on the island. There are some benches and trees so you can cool off in the shades. Ko Rawi can be reached by boat during a day trip from Ko Lanta and usually the driver will combine Ko Rawi with some other islands for you to visit. Ko Lipe, Ko Dong and Ko Adang are other popular trips within the Adang Archipelago and you can ask any long tail boat driver to take you to these islands.