January 19th, 2010
Ko Hin Ngam is small island in front of the bigger Ko Adang and known for its many vulcanic rocks. The Thai locals believe that taking one of these rocks away from Ko Hin Ngam will cause you a great amount of bad luck. A information sign on the island even specifies the meaning of this bad luck and according to the ancient rock beliefs steeling some of the vulcanic marbles will lead to the death of your family members.
This legend is also known as the Curse of the God of Tarutao which consists in 5 simple rules of bad luck. Number 1 to 5 read the prediction of fatal accidents happening to you like, number 2, being overthrown of the island, evoking the shattering of the lifes of family members, the loss of property and foryune and last but not least, the loss of your life.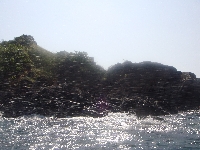 By longtail boat to Ko Hin..
Thai locals might take the curse of Ko Hin Ngam more than serious, tourist tend to laugh at the sign while they pick their favourite marbles.
From Ko Hin Ngam you will be able to look back south to see Ko Lipe and the smaller Ko Hinkaow, turn right for a view of Ko Adang while Ko Rawi and the smaller Ko Lo Kuaj, Ko Paung and Ko Sa Maung are located on your left.