January 29th, 2010
Railay Beach near Ao Nang in Krabi is one of the most beautiful beaches in this region of Thailand. You can only get to Railay Beach by longtail boat and because of the many tourists wanting to get here you even have to purchase a lontail boat ticket and wait in line till one of the boats will come back from Railay.
In a group of 6 to 8 people you will be brought to Railay Beach and spend as much time as you want there. We went in november and the weather was great, sometimes even a bit too hot so we had to seek some shelter close to the rocks. The water in Railay is beautiful and crystal clear. You can even walk over to this small island formed around this huge limestone rock at about 30 meters from the beach.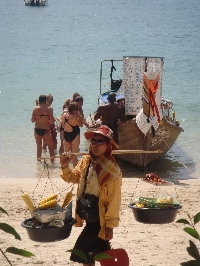 Drinks and snacks on Railay..
Drinks and snacks can be purchased on the beach and you will find special longtail boats which are turned into little food stalls. There is also a very luxurious resort on Railay Beach which is accessible only to their guests but you can use the resorts restaurant bar on the beach which serves some great salads, lunches and fruit juices.