January 29th, 2010
Ko Hong is an island between Phuket and Krabi which can be accessed during a day tour from either places. We took a tour from Ao Nang in Krabi and visited this amazing island.
Ko Hong has a beautiful beach on its west coast, amazing limestone rock formations rising from its waters and an intriguing mangrove forest hidden away in large lagoons.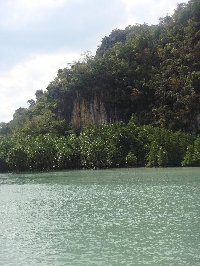 From Ao Nang to Ko Hong
The beach is really beautiful and round shaped alongside the bay on one side and the lagoon on the other side. You can decide to go snorkeling in the lagoon as the fish swim right towards you or go on a hike along the path designated through the inland bush.
We went to Ko Hong with a day tour and decided to go by speed boat because we wanted to visit more islands and thought the longtail boast wasn't as comfortable for longer distances. Especially touring through the lagoon I was happy with this decision as we could freely walk around the boat to take pictures. The green colours in the lagoon are beautiful and you can actually see the roots of the mangroves through the water.