February 1st, 2010
Khao San Road is probably Bangkok's most popular street since the film The Beach came out. Situated in Bangkok's backpackers heart you will find everything and more on Khao San Road, from cloths and food to all kinds of souvenirs to bring back home. Just when you come here you notice the hundreds of tourists walking around and realize what the movie has done with this place.
Before The Beach Khao San Road was just an ordinary street in one of Bangkoks suburbs but today it has become a tourist attraction on its own. You will spot the many fast food joints and notice the prices in the shops have gone up too. Khao San Road today has become more of a business than a typical Thai street.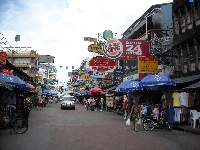 The famous street from The..
You can rent a tuk tuk and take a ride through the area if you don't want to walk or need a drive back to Bangkok's CBD