February 2nd, 2010
Walking around Bangkok you will see so many interesting things that it becomes hard to exactly follow a map or travel guide. Even if you might find yourself lost in the middle of a chaotic nowhere there is always something new to discover in this amazing city.
On one of our walks along Thanon Rachadamnoen Klang, one of the busiest streets in Bangkok close to Wat Ratchanatdaram we discovered a little park right next to the Mahakan Fort and curious as we were we started walking around hoping to find something hidden between the trees.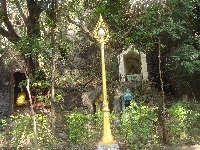 Buddhist altars close to the..
This side of the fort looked more like an abbandoned parking lot than a real park but walking around it we found some altars and even a reclining golden buddha up a hill. There was a path up a very steep hill between the branches which leaded to a brick wall which turned out to be part of the Phu Khao Thong, the hill of the Golden Mount!
So instead of entering Wat Saket and climbing up the stairs we had skipped a part by bush climbing up the hill. We climbed over the wall of Wat Saket and continued the walk up to the Golden Mount.
The view from up here is spectacular and you can look out over the entire city enjoying a 360 degree view of Bangkok. The Golden Chedi is really big and something amazing to see. Just after you enter the temple you will be asked to take off your shoes out of respect so you can climb up to the roof where you will find the true Golden Mount draped in yellow satin. A true adventure with a great ending!