September 30th, 2009
During our stay in Nakhon Pathom we decided to visit the popular floating market at Damnoen Saduak.
After taking a bus to the town of Damnoen Saduak we arrived at a small tour desk where some tour operators explained the Damnoen Saduak tour and from whereout our longtail boat through the canals departed.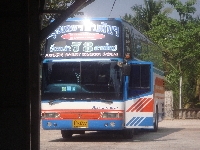 Tourism Damnoen Saduak
Eventhough the area around Damnoen Saduak is rather poor, people sure got commercial and before entering in the floating market our 'shipper' stopped in front of little stalls which were created alongside the canals and where people were selling all kinds of stuff, from wooden toys and art crafts to entire snakes!
After buying some stuff we really didn't need we entered the floating market which was quite an event. I didn't expect too much after reading a lot of negative forums about the market becoming too much of a tourist attraction but actually I really liked the market.
The food on the market is cooked by women on their longtail boats and you can buy all kind of fruits, vegetables, sweets and treats. We bought some small bananas which were really tasty. I also tried some panncakes but wasn't too enthusiastic about those:)
The colors on the floating market are amazing and really good for photographing. We had an amazing day and the connection between Nakhon Pathom and Damnoen Suduak is a real easy one to take. Also an interesting ride as is passes through all kind of little towns.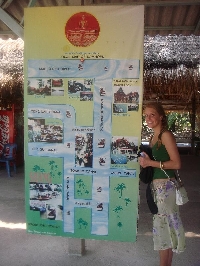 Tourism Damnoen Saduak
Nakhon Pathom itself is less touristic so it can be difficult to find your way around.