March 4th, 2010
I remember my first day in Bangkok a city filled with culture and traditions. Visting the different Buddhist temples and walking I realized just how special this place was and how lucky I was to experience it all.
I decided not to plan my trip and discover Bangkok day by day which made it so much easier to enjoy my holiday and see a lot of the Thai culture.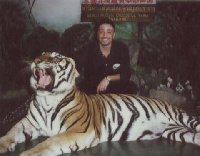 Photo with the tiger in..
The mystery of the ancient Orient is something that really fascinated me and I would defintitely recommend Thailand as a travel destination.
I also visited the Crocodile Farm, a kind of local zoo with all sorts of animals but of course the crocodiles do dominate here. The show was great and the animals really amazing.
There were also several tigers on chains and all the tourists started to take their pictures with them so I tried it too. The result was a pretty impressive photo but I sure freaked out while sitting behind that huge animal.