January 7th, 2010
Ko Lanta is another of Thailand's best kept secrets and the ultimate island to get active, enjoy nature and soak up that Thai culture. One thing I knew I wanted to do during my holiday in Thailand was to take some cooking classes and I was so happy to find Time for Lime in Ko Lanta when I did.
This restaurant/cooking school has all that you can desire, from the best dishes and ingredients to the perfect location and friendly staff. Time for Lime is located on the beach and has room for both bar and restaurant as a cooking studio. While clients are being served on th upper level of the restaurant they can watch the students putting their first cooking skills into practice from the balcony.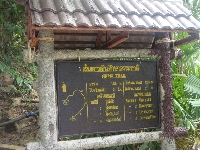 Ready for some walking!
The ground floor is dedicated almost entirely to the cooking studio with enough space for at least 30 students plus their cooking equipment because every student has its own little kitchenette rigth on the table. The teacher will explain and guide the students while they prepare dishes like green curry, spring rolls and steamed fish. To keep things spicy for the staff as well the cooking menu changes ever day of the week so you can decide which dishes you'd like to prepare and come on that day.
After the amazing dinner which we all consumed with smiles on our faces we enjoyed some home made margherita cocktails at the Time for Lime beach bar and that made a perfect evening.
A more active thing which I can reccommend to anybody looking for a little holiday thrill is to rent a motorcycle, or a scooter, and make your way to the Lanta National Park located on the southern tip of the island.
This place is gorgeous and on the way to the national park you will have to stop at some of the amazing beaches you'll find beneath you while driving up the hill. Then again, take a break, its a bumpy road, you've earned it!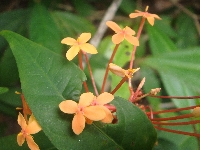 Orange wild flowers on Ko..
The Lanta National Park has some amazing views from the lighthouse. From up there you can look all over the island which is amazing.
For the hikers and wildlife lovers there is a 2 km hike through the rainforest where you will meet some curious wild monkeys. The stairs may break your back but don't give up these little creatures are well worth the climb!