February 2nd, 2010
Ko Lanta is another great Thai island and just like Ko Lipe is it a great place to explore some smaller islands by doing day trips. I heard a lot about Ko Kradan being one of the most beautiful islands of this region so I booked a day tour from Ko Lanta to Ko Kradan.
On the way to Kradan which lies within the Hat Chao Mai National Park the driver stopped for some snorkeling at Ko Chueak. Ko Chueak is a giant rock formation which rises out of the sea and home to a giant bat colony. These enormous bats hang in the branches growing out of the rocks and make a terrible noice. The good thing about Ko Chueak is the snorkeling. The reefs and coral around the island are of a great quality and there is a lot of marine life to spot. We spotted a lot of fish and even a turtle.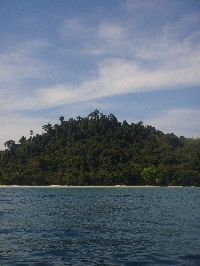 Arriving on Ko Kradan
Back on the route to Ko Kradan. This honestly is one of the most beautiful and tranquil places I have been to and luckily for us there were only a few tourists. The water was amazing and the fish literally kept swimming in circles around us. Pretty cool!