January 31st, 2016
We booked an overnight camel safari with Mouhou tours company for four adults. They were really nice and allowed us to depart earlier than usual so we could see the sunset from Erg Chebbi. Our guide was quiet but very kind.
We hiked to the top for sunset and then rode the camels a short distance to our Berber camp. There were 5 other travelers there with several other guides and helpers. We were served tea on our arrival, followed by a Moroccan dinner of tagine, bread, and fresh fruit for desert. The guides played the drums and we all had a great time. There was about a quarter moon that night, but it was enough to see.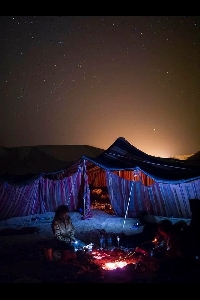 Our tent under the stars
This is an experience you won't forget.The Berber tents are warm and comfortable enough for the night. We took pictures of the stars and chatted and generally had a great time.
The trip with this group also includes a room that you can put your gear in while you are on the trek. It also gives you use of the shower facilitie .
It was a fun experience and I'm really glad we decided to go out of our way to do the trek.
Planning a trip to Morocco and stuck for things to do? Let Mouhou Tours guide you round one of the world's most vibrant cities ,Mouhou tours is a Morocco travel company run by local bedouins and specialised in desert activities ( Camel Treks & Sahara Desert Tours ) .